Strathmore Performing Arts Center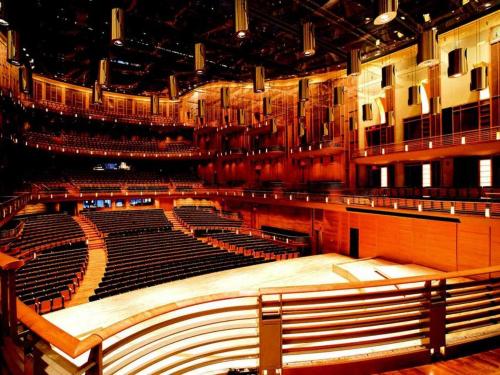 Fans of the performing arts will have a ball at the Strathmore. Whether you're attending a musical performance, an interactive art exhibit or a private event, the Music Center and Strathmore Mansion have become synonymous with top quality music, education and entertainment.
Founded in 1981 and located in North Bethesda, Maryland, the Mansion is the original venue that houses an acoustically superior 100-seat music room, outdoor concert pavilion and sculpture garden. Realizing the potential of their artistic reach throughout the Washington, D.C. event scene, the Strathmore organization opened its second location, the Music Center, in 2005, with a 1,976-seat music hall and an equally impressive education center. Going back to its roots for creating intimate music settings, the Strathmore opened its third location, AMP, at the Pike & Rose with just 230 seats and a stage that features bluegrass, rock and jazz music.
Since its beginnings, the Strathmore has welcomed more than two million spectators to enjoy the creative acts of over 5,000 artists. Recent headlining performers to grace the stages of Strathmore include Diana Ross, David Sedaris, Kristin Chenoweth, Chick Corea and Béla Fleck.
Rock Creek Park
Spend a day with Mother Nature in beautiful Rock Creek Park. If you like to hike, bike, fish or go boating, you'll find your happy place in this approximately 1,800-acre urban park. Created by an Act of Congress in 1890, Rock Creek Park is the third national park established by the U.S. government after Yellowstone and Mackinac National Parks.
In addition to 13 miles of trails, you'll find the ideal place to spend a day at the lake in Maryland. Lake Bernard Frank, better known as Lake Frank, is a 55-acre reservoir that requires you to hike or bike a quarter of a mile to reach its shores. The extra effort is well worth it if you want to do some fishing in the peace and quiet. Just be sure to get a fishing license before you go.
Lake Needwood is another 75-acre body of water with a boat shop where you can rent a canoe, rowboat or pedal boat. Guests can also board the Needwood Queen pontoon boat from May through September to enjoy a storytime cruise and tour the picturesque shoreline.
When you want to escape the hectic D.C. scene and calm your nerves among the lush trees and fresh air, Rock Creek Park is only five miles from the hotel. Grab your walking shoes, take a picnic or grab a snack from our hotel market, and revitalize your senses in this nearby green oasis.